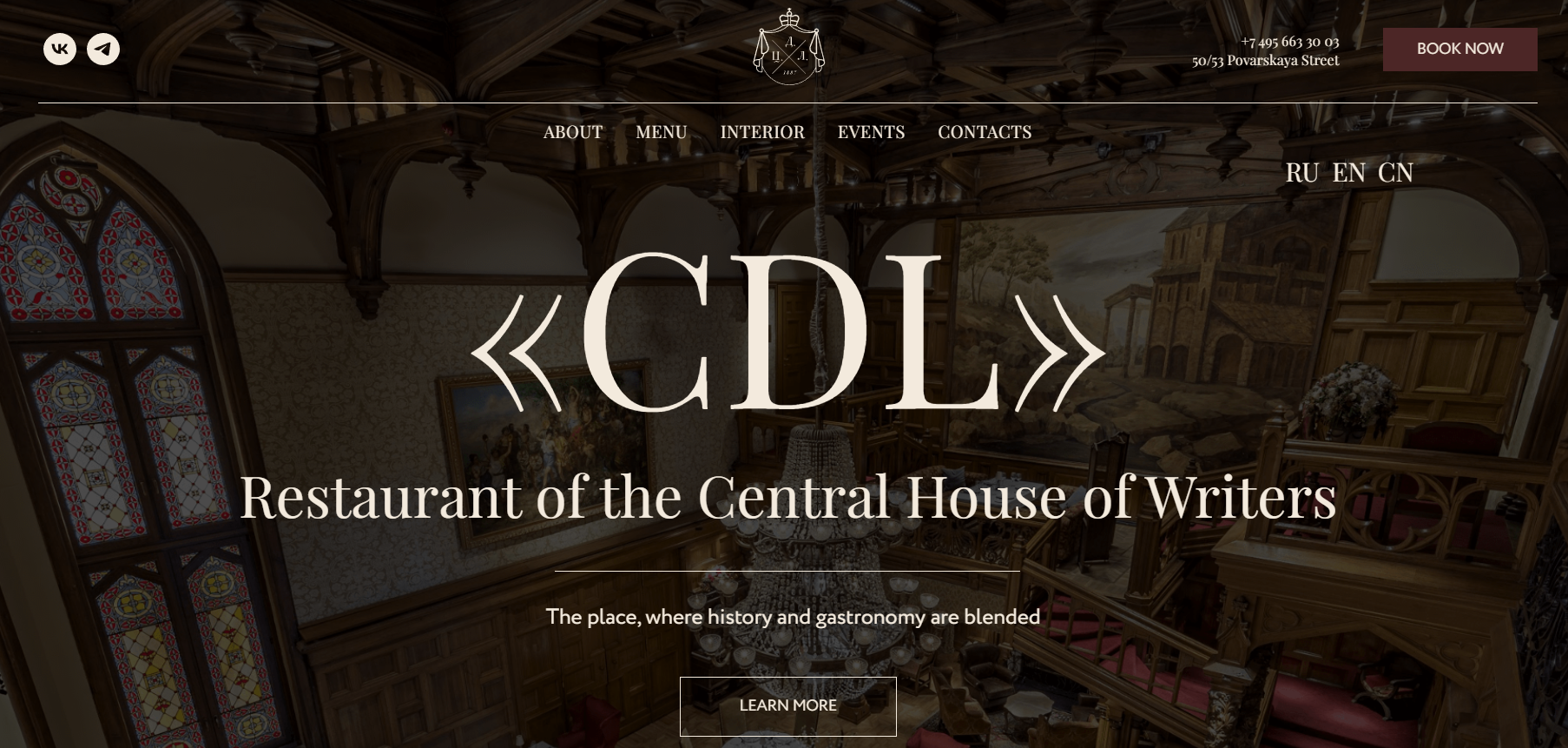 Restaurant of the Central House of Writers Reviews
The restaurant of the Central House of Writers on Povarskaya Street is a place where you can comfortably spend time in stunning historical interiors. The establishment is located in a mansion that is iconic for Russian culture: Mikhail Sholokhov, Konstantin Simonov, Mikhail Zoshchenko and other writers and poets performed here. "Central House of Writers" is still a point of attraction for the intelligentsia and representatives of art today.
In total, our restaurant has four rooms: "Oak" – a formal two-level room with stained glass windows and a massive crystal chandelier, "Fireplace" with working fireplaces of the 19th century, "Count's Office", which today is used as a kind of VIP room for 12 people, and "Motley". The halls preserve historical interiors and antique furniture of the 19th and 20th centuries: carved chairs, antique sideboards and decorative elements.
The CDL restaurant carefully preserves the traditions of Russian cuisine. Among the signature dishes, we highlight smoked sterlet back with pear and mushroom ragout, pike perch and salmon aspic, guinea fowl pate in glazed apple, herring mincemeat with mint jelly and pickled onions, chicken wings stuffed with veal, venison dumplings with mushroom broth, cabbage soup daily allowance from the fire, pozharskaya cutlet with fried potatoes and oyster mushrooms.
It is especially worth mentioning our confectionery. The dessert list includes more than 15 types of cakes, pastries and pastries. We serve the canonical dumplings with cherries, Kyiv cake with nut ice cream, "Chess Central House" with the image of chess pieces on the glaze, classic Napoleon and honey cake, Kremlin cheesecakes and dacquoise.
The CDL restaurant is a great place for luxurious banquets, elegant weddings, large-scale corporate events and other events. The holiday, organized at the highest level within the walls of the state mansion, will be remembered by every guest not only as a gastronomic, but also as a cultural event!
Contacts:
st. Povarskaya 50/53 building 1, Moscow
+7 (495) 663-30-03
https://restcdl.ru